Embrace the spirit of adventure and set forth on a captivating journey from the vibrant locale of Traverse City to the historic splendor of Mackinaw City. Nestled in the scenic landscapes of Michigan, these coveted destinations beckon travelers with their unique charm and robust displays of innate beauty. Traverse City lures with its rich culinary experiences, splendid cherry blossoms, intriguing wineries and a lively film festival. A picturesque drive from here through the heart of Michigan introduces the treasures of Petoskey and Charlevoix, eventually leading to the grandeur of Mackinaw City, brimming with historic sites, local markets, and traditional cuisine. This exclusive narrative aims to embellish your understanding of these cities, ensuring your expedition becomes an unforgettable voyage of discovery.
Table of Contents
Exploring Traverse City
Traverse City Treasures: The Top Experiences to Savor Before Venturing to Mackinaw City
Imagine a place where fresh waters meet delightful vineyards – welcome to Traverse City, Michigan. This vibrant area offers an unparalleled Midwestern charm that's worth exploration before you embark on the journey to Mackinaw City. Let's dive into the must-do experiences in this picturesque region.
Mingle with the Mighty Sand Dunes: A stone's throw away from Traverse City lies the Sleeping Bear Dunes National Lakeshore, a jaw-dropping fusion of sand dunes perched atop cliffs, luxurious forests, and striking blue waters. Spend a day hiking up the dunes, lounging by Lake Michigan's shore, or exploring the multitude of scenic trails – the natural beauty is simply magnetic.
Wine Experiences to Savour: Traverse City is nestled amidst Michigan's premier wine region. How about exploring the stunning wine trails of Old Mission and Leelanau Peninsulas? With over 30 wineries offering diverse varietals, from world-renowned Rieslings to robust Reds, make sure your itinerary includes a few wine-tasting sessions – it's guaranteed to titillate your taste-buds.
Delve into the Cherry Capital: Known as the "Cherry Capital of the World," Traverse City celebrates its heritage during the National Cherry Festival every July. Indulge in cherry-infused dishes, enjoy orchard tours, or take part in cherry pit spitting contests. Even if your visit doesn't align with the festival, stop by local markets and pick up some delectable cherry treats.
Feast on Fresh Catch: Delight in the culinary scene of Traverse City by trying some local fare. Start at the gourmet food trucks stationed at Little Fleet, followed by leisurely meals at farm-to-table restaurants like Trattoria Stella. Don't miss out on the fresh whitefish, a local delicacy, whether it's lightly breaded, pan-seared, or served in a traditional fish boil.
Traverse the Trails: Traverse City's TART Trail System is perfect for those in search of adventure. Walk, run, bike, or even rollerblade through this extensive trail, enjoying the cityscapes, serene forests, and panoramic beach views along the route.
Encounter A Kaleidoscope of Fall Colors: If your journey to Mackinaw City aligns with the fall season, do not miss a drive along the picturesque M-22 highway. Traverse City's adjacent areas orchestrate an impeccable show as the lush foliage transforms into fiery hues of reds, golds, and oranges, making for breath-taking vistas.
Living in the moment is key, fellow explorers. Each corner turned in Traverse City can lead to unexpected delights, charming encounters, and ultimately, unforgettable memories.
Remember, it's not just about the destination, but the journey. Winding through Traverse City instills a pleasant reminder of this truth. Enjoy every morsel, sip every tasting, and soak up every view. And when it's time to wave goodbye, Traverse City will fill your heart with warm tales – not just a warm up for Mackinaw City, but a glorious journey all its own.
The Journey from Traverse City to Mackinaw City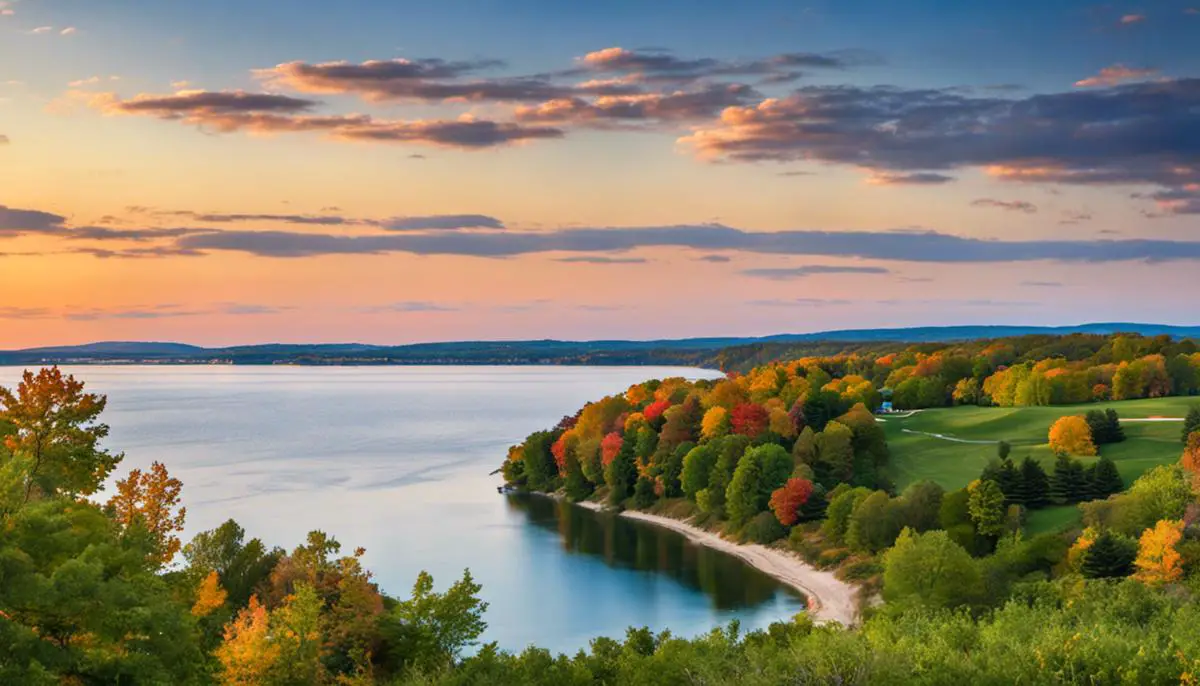 Venture Through the Quaint Towns
Leaving the hustle and bustle of Traverse City, the journey to Mackinaw City ushers you through enchanting towns peppered along the way. The first gem, just a stone throw from Traverse City, is the small town of Elk Rapids; known for its stunning beaches and a beautiful harbor, this village is easy to fall in love with. Charlevoix, another pit stop on this route, beams with a picture-perfect waterfront, vibrant flower beds, and exclusive stone houses. Step into a picturesque postcard scene and fill your senses with the simple charms of small-town America.
Marvel at the Majestic Castles
Yes, you heard right, castles! A bit further down the road resides the magical world of Castle Farms. Located in Charlevoix, this robust stone castle takes your breath away at every turn with its wonderful architecture and beautiful gardens. Built over a century ago, it's a fitting monument to the creativity and artistry of days gone by. Soak up the rich history while meandering around this ancient setting that feels like straight out of a fairy tale.
Get Your Fill at Fudge Shops
One of Michigan's best-kept secrets is its scrumptious, handcrafted fudge. The renowned Joann's Fudge of Mackinac Island has a branch that graces the streets of Mackinaw City. The entire fudge creation process is a spectacle – from the big copper pots filled with boiling sugar, to the deft hands that mold the fudge into loaves on marble slabs. Make sure to sniff around for your favorite flavor before setting off again.
Detour to the Dark Sky Park
Headlands International Dark Sky Park is an absolute must on your Traverse City to Mackinaw City road trip. As one of the only designated dark sky parks in America, the night sky here is an orchestra of celestial sights. Coupled with Crystal-clear skies and minimal light pollution, you'll feel at one with the cosmos. It's a humbling experience that lets you ponder your place in the universe while surrounded by a peaceful symphony of the night.
Treasure the Tranquility of Douglas Lake
Before reaching the final destination, a quick detour to Douglas Lake is worth every minute. It's the embodiment of serenity. The calm, clear waters reflect panoramic views of magnificent wooded hills, offering the perfect backdrop to unwind. Snap a few pictures for Instagram or just stand on the shore lost in awe; Douglas Lake is sheer bliss for nature lovers.
And there you have it! The journey from Traverse City to Mackinaw City isn't merely a 'point A to point B' affair. It's a tantalizing treat of spectacular sights, scintillating experiences, and storied history, ready to transform you into a storyteller, all the while creating memories that will last a lifetime. Buckle up, roll down the windows, and let the adventure unfold!
Unveiling Mackinaw City's Splendor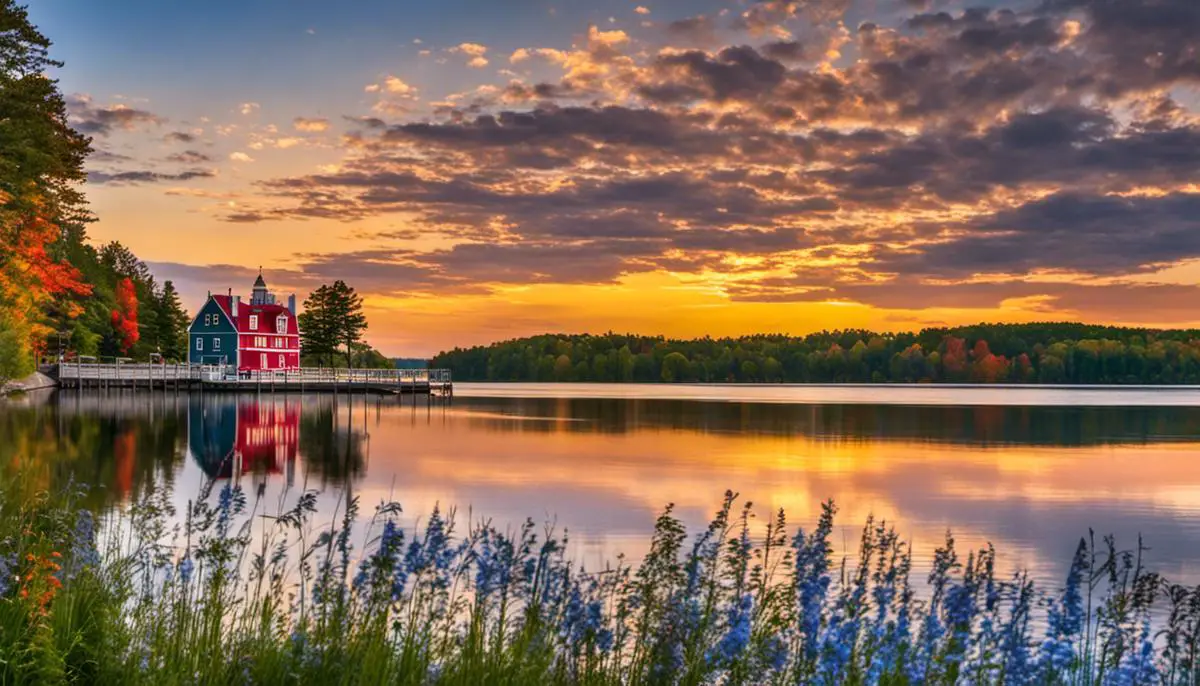 Dive into the Depths of History
In Mackinaw City, history buff or not, the past has a way of drawing you in. Allow yourself to be transported back to the colonial days at the Colonial Michilimackinac. This 18th-century fort and fur trading village offers immersive experiences that will leave you with a deeper understanding of life in those eras.
As you walk through the palisade walls, you'll encounter costumed interpreters, historic demonstrations, and archaeological excavations — a hearty slice of history, served warm. Don't miss the Musket and Cannon firing demonstrations that are sure to add a bang to your visit!
Master the Mighty Mackinac
For thrill-seekers and view junkies, few experiences can deliver the same buzz as the Mackinac Bridge Walk. Spanning over 5 miles, the Mighty Mack is the planet's third-longest suspension bridge and boasts exciting panoramas of the straits.
While the annual Labor Day Mackinac Bridge Walk is a big hit, the footpath is open to pedestrians throughout the summer months. So, just tighten your shoelaces, you're all set to stride the Mighty Mack.
Charm of an Old-Timey Village
The delightful Mackinaw Crossings houses a mix of shopping outlets, dining spots, and entertainment venues, all sprinkled with a unique old-world charm. Stroll into quaint boutiques, savor meals at the eateries, and when evening falls, brace for live musical shows at the outdoor amphitheater. It's a mélange of experiences rolled into one charming vintage setting.
Engage with Ice Age
At the Icebreaker Mackinaw Maritime Museum, journey back to the WWII era and explore the colossal, historic Icebreaker Mackinaw. Whether you opt for a self-guided tour or prefer a guided trip, put on your captain's hat, and take the helm of the ship. Navigate through quarters where brave crews once lived and worked in the biting cold. A unique and frosty experience guaranteed, regardless of the season.
Unplanned Wonder of Mill Creek
Discover the wonders of nature and history combined at Historic Mill Creek Discovery Park. Traverse through the lush forest on the Adventure Tour, have your heart in your mouth on the thrilling Forest Canopy Bridge, or get a bird's eye view from the Eagle's Flight Zip Line. The park also houses the first water-powered sawmill in the area. Talk of combining history with adrenaline!
Dive or Dream of Shipwrecks
Finally, in the pristine waters of the Straits of Mackinac, lurk the echoes of maritime past. The Great Lakes Shipwreck Museum will both educate and fascinate you about the shipwrecks of the region. For adventurous souls, dive in and come face-to-face with these watery graves, an experience sure to leave you spellbound!
Each experience in Mackinaw City invites you to shed the familiar and embrace the extraordinary: to delve deep beneath the surface of history, to conquer the towering Mackinac, to revel in the rustic charm of the old-timey village, to break ice with a maritime legend, and to encounter specters of the maritime past. Invite in the whimsy, for in Mackinaw City, wonders wait at every turn.
Final Thoughts Traverse City to Mackinaw City
Having accompanied you on this sojourn from Traverse City to Mackinaw City, it's clear that Michigan's allure lies not just in its destinations but in the journey and experiences that sandwich in between. Traverse City's culinary and winery landscape, the captivating sights en route to Mackinaw, or Mackinaw's own historic charm and local delights – all contribute to an enriching narrative that's uniquely Michigan. Let these experiences and tips serve as your travel compass, guiding you to the most unforgettable moments, tastes, and sights in this part of the world. Regardless of where you set your foot, remember, you're not just exploring a city or taking a route; you're painting your own story on the broad canvas of Michigan.
Related Reading
Exploring the Magic of Mackinac Island in October
Magical Christmas on Mackinac Island: A Guide