Picture a perfectly peaceful winter wonderland, where horse-drawn carriages glide over fresh snowfall and the sweet aroma of homemade fudge wafts from cozy shops lining the main street. Welcome to Mackinac Island, a small island in Lake Huron, Michigan. The charm of Mackinac Island shines even brighter during the Christmas season, transporting both locals and visitors to an enchantingly festive world. This essay offers a delightful exploration of the rich history of Christmas celebrations on Mackinac, a captivating overview of the currently held festivities, practical winter travel guidance for potential visitors, and mouth-watering highlights of the local holiday delicacies.
Table of Contents
History of Christmas on Mackinac Island
Mackinac Island Christmas: A Historical Perspective
Mackinac Island Christmas has a rich and varied history that goes back centuries. Mackinac Island, located in the U.S. state of Michigan, was settled by Native Americans before the arrival of European Settlers. In pre-modern times, each year the local tribes celebrated the winter season with traditional activities such as games, storytelling, and feasting in a communal manner.
In the late 17th century, the French fur traders brought with them their Christmas customs, which merged with the indigenous traditions to form a new type of celebration on the island. With the arrival of the British soldiers and traders, new English customs like caroling, decorating the yule log, and hanging Christmas stockings were added.
In the 19th century, Mackinac Island enjoyed a period of prosperity and became a popular destination for holidaymakers, especially during the Christmas season. This era saw the emergence of several new traditions, including extravagant Christmas parties in the grand hotels, festive carriage rides around the island, and the lighting of the island's iconic Christmas tree.
Present Day Mackinac Island Christmas Celebrations
Present-day Mackinac Island Christmas traditions bring a unique blend of history, culture and the unique geographic attributes of the island. The island is well known for its vehicle-free policy, further enhancing its unique charm during the holiday season. Horse-drawn carriage rides and leisurely bike rides replace modern vehicle transportation.
Residents and visitors decorate their homes and businesses to reflect their joy and excitement during the holiday season. The Mackinac Island Christmas Tree Lighting is an iconic event that attracts a large crowd. The lighting of the tree is followed by a community and visitors caroling around it.
The annual Mackinac Island Christmas Bazaar is a four-day event that caps off with a community dinner. The bazaar features handmade crafts, baked goods, and other Christmas goodies donated by local residents and businesses, and all proceeds go towards the local church and community hall.
Traditions Preserved
Despite the passage of time and the influence of modernization, the essence of a Mackinac Island Christmas has retained its traditional charm and raw beauty. It's an occasion that beautifully represents a harmonious blend of the island's unique traditions, rich history, and strong community spirit.
Current Christmas Celebrations and Activities
The Sparkling Start: Christmas Tree Lighting
Each year, the season of joy on Mackinac Island kicks off with the much-anticipated Christmas Tree Lighting ceremony, a beloved island tradition. Locals and visitors alike congregate on Main Street, their eyes filled with wonder at the sight of a grand Christmas tree gorgeously lit in the heart of the town. As the night comes alive with gleaming lights, merry music, hearty laughter, and the communal countdown, it signals the official start of the festive season in an unforgettable, heartwarming way.
Caroling and Festive Music
Music runs through the veins of Mackinac Island and comes alive during the Christmas season. Groups of carolers amble through the snow-dressed streets, spreading holiday cheer with their melodious tunes. The community also hosts traditional music events, where families and friends can enjoy festive performances while savoring warm holiday beverages. The sound of Christmas carols and joyful singing echoes through Mackinac Island during this time, adding a warm, heartfelt note to the celebrations.
Horse-Drawn Carriage Tours
One of the most iconic features of Mackinac Island's holiday traditions are the horse-drawn carriage tours. As motor vehicles are not allowed on the island, these carriage rides offer a unique and charming way to explore Mackinac Island during the Christmas season. Passengers aboard can enjoy the beauty of enchanting holiday decorations while absorbing the crisp winter air. Cocooned in blankets, they experience a vintage elegance that lends a timeless essence to the island's Christmas spirit.
Community Events
Mackinac Island hosts various community events during the Christmas season, each designed to enrich the festive experience and promote community spirit. There's something for everyone, from festive workshops and holiday markets to interactive storytelling sessions and festive craft classes. Residents and visitors of various age groups participate in these events, fostering a sense of togetherness and goodwill that resonates with the season's theme.
Why Mackinac Island Embraces Christmas
The community on Mackinac Island gives homage to the Christmas tradition with great importance. This special time binds the tight-knit community even closer together through shared moments of joy, charity, and warmth toward one another. The festival season also holds an economic boost as many tourists from all around the nation are drawn to the unique island celebrations and tranquil winter scenery. Such an influx of visitors greatly benefits the island's local markets and lodging industry. Therefore, Christmas on Mackinac Island is more than a simple holiday season – it's a beloved tradition that boosts camaraderie among the community and breathes life into the island's rich cultural tapestry.
Winter Travel Tips for Mackinac Island
Insights for Dressing Warmly for the Island's Winter
Experiencing a Mackinac Island Christmas does come with a frigid reality – temperatures often plunge into the freezing zone, hitting the teens or even lower. Therefore, adequate preparation with warm clothing is paramount. Essentials to pack include a dependable winter coat, cozy scarves, hats, gloves and layers that offer thermal protection. Don't forget the importance of suitable footwear too. Insulated, waterproof boots are your best bet for traversing the often snow-filled and slushy paths.
Travel and Accommodation
Travel to Mackinac Island during the winter will typically involve a flight into Pellston Regional Airport and then a shuttle service to St. Ignace, where ice-breaking ferry services run by Star Line or a small charter airplane can get you to Mackinac Island, even in the coldest months.
During the winter months, from November to April, public restrooms are not accessible on Mackinac Island. However, visitors can still make use of restroom facilities by either staying overnight in accommodations or by visiting local restaurants. Alternatively, those taking the ferry to the island can use the restroom available at the Mackinac Island Ferry Company's ticket office during ferry operating hours.
Accommodation on Mackinac Island may be slightly limited during the winter season as a number of hotels close. However, there are still several open, including the Lilac Tree Hotel, Pontiac Lodge, Village Inn Suites and the Cottage Inn, which provide a cozy and comfortable stay.
Navigating the Island's Unique Transportation Rules
Mackinac Island is known for its unique transportation rules, as they ban motorized vehicles. This means no cars, buses, or motorcycles. Instead, the primary modes of transportation are bicycles, horses, and horse-drawn carriages. During the winter, however, bicycles and horses are also less common due to the snow. Many locals and visitors opt for snowmobiles, which are the exception to the no-motorized-vehicles rule. Walking is also a common way to get around in the winter, especially within the downtown area.
Exploring the Christmas Charm on Mackinac Island
Even though Mackinac Island, Michigan, experiences wintry weather conditions, it doesn't fall short on offering plenty of captivating and festive activities during Christmas. The downtown area lights up in holiday cheer, adorned with sparkling Christmas decorations and lights. Besides indulging in evening nature walks lit by lanterns, you can revel in winter recreations such as cross-country skiing and ice skating. The island also boasts an array of trails for winter hiking and snowshoeing.
In addition, the butterfly house metamorphoses into the Wings of Mackinac Tropical Conservatory during Christmas, providing a warm sanctuary to view the stunning variety of plants and butterflies. Another spot to visit is Fort Mackinac. Although its interiors remain closed in winter, the forts' outdoor scenic overlooks provide a mesmerizing view.
Amidst the merry festivities, the island also organizes a myriad of Christmas events. A key highlight is the annual Christmas Bazaar, a unique holiday marketplace featuring local crafts, food, and other treasures. Main Street is a hotbed of festive shopping activity offering distinctive gifts and Christmas deals at various shops.
Lastly, the renowned Mackinac Island fudge stands as the island's culinary icon, an indulgence that remains available even in the heart of winter.
Shopping on Mackinac Island During Christmas
The holiday season on Mackinac Island offers a unique shopping experience that combines the festive spirit with the island's unique charm. Whether you're looking for holiday gifts, local crafts, or seasonal treats, the island's shops have something for everyone. Here's a guide to some of the shops you might want to visit:
Doud's Market
Open all year, Doud's is your go-to for groceries and more. It's the perfect place to stock up on essentials if you're spending an extended period on the island. Doud's Market Website | Contact: 906-847-3444
Island Hardware
Also open year-round, Island Hardware offers a variety of home improvement items. Whether you need tools or seasonal decorations, they've got you covered. Island Hardware Website | Contact: 906-847-6350
Little Luxuries
Open on December 1st and 2nd from 11:00 am to 4:00 pm, Little Luxuries offers a curated selection of gifts and home decor. Little Luxuries Website | Contact: 906-847-9980
Loon Feather & Balsam Shop
Open from December 29th to 31st and by appointment throughout the winter, this shop specializes in local crafts and souvenirs. Loon Feather & Balsam Shop Website | Contact: 906-847-3592
Mackinac Island Ferry Company Ship Store
Open as long as the ferry runs, this store offers a range of Mackinac Island memorabilia and souvenirs. Mackinac Island Ferry Company Website | Contact: 906-847-3292
Urvana's
Open on December 2nd and 3rd for limited hours, Urvana's offers stylish clothing and accessories. Urvana's Website | Contact: 231-818-2481
Vintage Glam Salon
Open all year, Vintage Glam Salon offers beauty services and products, making it a great place for some holiday pampering. Vintage Glam Salon on Facebook | Contact: 906-847-3290
While several shops have not yet announced their Christmas schedules, they are well worth keeping an eye on for unique finds and holiday gifts. We recommend checking their websites and Facebook pages for the most up-to-date information on holiday hours and special promotions. Here are some of these shops:
Caddywampus
This shop offers a variety of quirky and unique items. Keep an eye on their Facebook Page for updates. Contact: 906-847-0950
Flagship
Known for its nautical-themed items, Flagship is a must-visit for anyone interested in maritime gifts. Check their Website for updates. Contact: 989-737-2986
Great Turtle Toys
A paradise for kids and adults alike, this toy store offers a wide range of fun and educational items. Visit their Website for the latest information. Contact: 906-847-6118
Joann's Fudge
A Mackinac Island staple, Joann's Fudge offers a variety of delicious fudge flavors. Keep an eye on their Website for holiday specials. Contact: 906-847-3707
Mackinac's Little Gallery
This gallery features works from local artists, making it a great place to pick up a unique piece of art. Visit their Website for updates. Contact: 906-847-6400
Nephew's
Specializing in men's fashion, Nephew's offers a range of stylish clothing and accessories. Check their Facebook Page for the latest updates. Contact: 906-847-3462
Pink Pony Store
This store offers a variety of Mackinac Island memorabilia and gifts. Keep an eye on their Online Store for updates. Contact: 906-847-3341
Poppins
A charming shop with a variety of gifts and home decor items. Check their Website for the latest information. Contact: 906-847-0334
Rustic Chic Boutique
This boutique offers a range of stylish and rustic home decor items. Keep an eye on their Facebook Page for updates.
Whether you're a local or a visitor, shopping on Mackinac Island during Christmas offers a unique experience that combines the joy of the season with the charm of island life. Keep an eye on these shops for their holiday schedules and enjoy a festive shopping experience.
Local Delicacies During the Christmas Season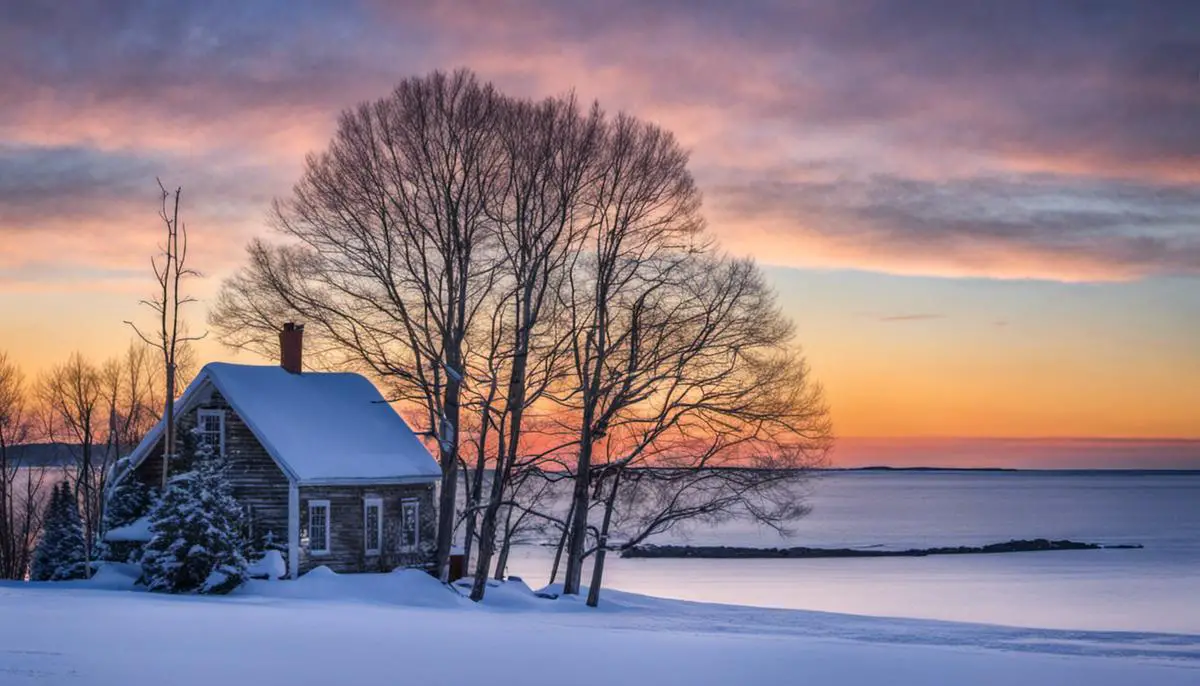 Savouring Christmas Delights on Mackinac Island
Embedded in the heart of Lake Huron, Michigan, despite being a small chunk of land, Mackinac Island is alive with culinary richness, especially during the festive Christmas season. Its diverse holiday cuisine fulfills local appetites and entices visitors from far and wide to partake in the joyful festive banquets.
Traditional Dishes and Sweets
Much of Mackinac Island's holiday charm comes from the traditional dishes and sweets prepared during Christmas. From the island's locally sourced ingredients, scrumptious holiday-themed meals are cooked, ready to bring warmth and joy to the cold winter nights.
One of the many local favorites is the festive whitefish, a Mackinac Island staple. Caught from the surrounding waters, this fish is featured in many dishes during the holiday season.
As for sweets, Christmas on Mackinac Island wouldn't be complete without the famous Mackinac Island fudge. Infused with flavors like peppermint and white chocolate to align with the holiday spirit, this fudge has become an integral part of Christmas celebrations. This delicacy is such a hit during Christmas that it has led to an annual event known as "Christmas Fudge," where fudge making demonstrations and workshops are held, and visitors can taste various fudge samples across the island.
Dining on Mackinac Island During the Winter
When the snow blankets Mackinac Island, the bustling summer crowds may be gone, but the island's culinary scene remains alive and well. If you find yourself on this winter wonderland, you're in for a treat—literally. Here are some dining options that stay open throughout the winter season, offering both locals and visitors a taste of Mackinac's unique flavors.
Doud's Market & Deli
First on the list is Doud's Market & Deli, a staple on the island for over a century. Open daily, this market offers more than just groceries. You can grab a quick sandwich, a bowl of homemade soup, or even a freshly baked pastry. It's the perfect spot for a casual lunch or to pick up some essentials for a cozy night in. For inquiries, you can reach them at 906-847-3444.
Mustang Lounge
If you're looking for a place to unwind after a day of winter activities, the Mustang Lounge is your go-to. Also open daily, this lounge offers a relaxed atmosphere where you can enjoy a variety of drinks and pub-style food. From burgers to fish and chips, the menu is diverse enough to satisfy any craving. Give them a call at 906-847-9916 to find out about any special winter promotions or events.
Kingston Kitchen at Village Inn
Last but not least, Kingston Kitchen offers a dining experience that's a bit more upscale but still incredibly inviting. Open throughout the winter, this restaurant specializes in Caribbean-inspired dishes, providing a warm escape from the chilly Michigan air. Whether you opt for jerk chicken or a seafood platter, your taste buds are in for an exotic journey. To make a reservation, you can contact them at 906-847-3542.
So, whether you're in the mood for a quick bite, a leisurely drink, or a fine dining experience, Mackinac Island has something to offer even in the coldest months. Don't let the winter weather keep you from exploring the culinary delights that this Michigan gem has to offer.
Experience the Cheer
Whether you are enjoying a Christmas-themed dinner at one of Mackinac Island's hotels or devouring a slice of Mackinac Island fudge, the Christmas cuisine of Mackinac Island is sure to leave you with a uniquely memorable holiday experience.
For a bit of local flavor head over the the Gate House Restaurant every Wednesday in December for their International NIght.
Making a trip to Mackinac Island during Christmas isn't just about the sights and activities—it's about indulging in the island's unique Christmas foods and becoming part of a tradition rooted in culinary delights.
Final Thoughts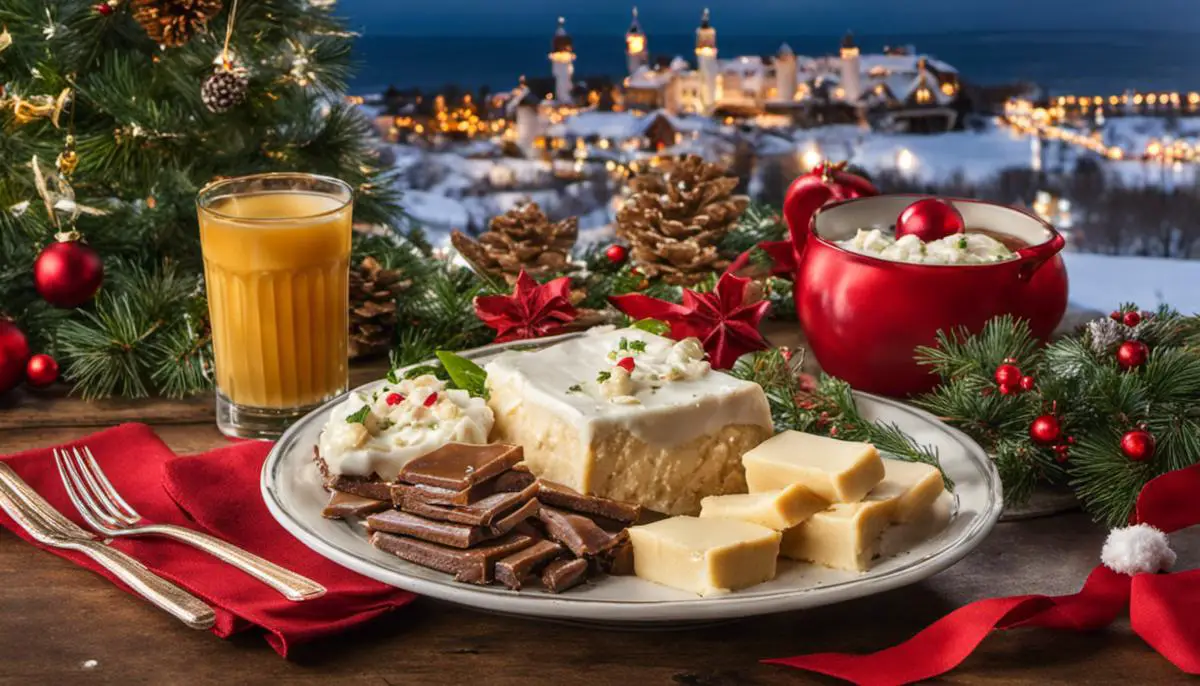 Whether you're absorbed in the history of Mackinac Island's Christmas traditions, planning your own holiday adventure, or simply savoring the tantalizing description of their festive cuisine, it becomes clear that this place provides a magical Christmas experience. No matter where you are or where you're from, the spirit of Christmas on Mackinac Island is so vividly palpable that you'll feel as if you're standing on its snowy streets, singing carols beneath twinkling lights. Mackinac Island's unique blend of old-world charm and fresh winter beauty is a reminder that the true spirit of the holiday season is about more than just the material; it's about community, shared experiences, and creating memories that last a lifetime.