Nestled in the heart of Holland, Michigan, stands a testament to time and community spirit, the Centennial Park. This treasured local landmark, with a rich tapestry of history woven into its landscape, has over the years evolved into a much-loved sanctuary for not just the locals but also visitors from far and wide. Beyond its appealing tableau of flourishing gardens, architectural marvels, and soothing water bodies, Centennial Park's significance runs deeper. This essay provides an enlightening journey through its multifaceted narrative, covering the park's intriguing history, the varied attractions and amenities it offers, and how it has subtly and notably shaped the socio-economic life of Holland.
The History of Centennial Park
Origins of Centennial Park Holland MI
Centennial Park, located in Holland, Michigan, is a sight to behold. The scenic landscape was created in 1876 as the city's first public park space. The name 'Centennial Park' commemorates the United States' 100 years of independence celebrated in that same year. Initially, this green space was poorly maintained, littered with debris and scrap materials. However, from 1883 onwards, efforts were initiated to beautify and transform this land into a pleasant urban park under Holland's first superintendent of parks.
Transformations Over the Years
The park has seen significant transformations over the years. In the early stages, Centennial Park was developed as a city marketplace, with a horse trough and scales installed to aid the market activities. Most noticeable is the 1909 transformation, where the park adopted Victorian architectural themes and designs from famed artisan George Kessler. The iconic cast-iron fence that surrounds Centennial Park today was installed during this time in the early 19th century.
Significant Events
Over the years, Centennial Park has served as a space for significant events, gatherings, and festivities. The park's bandstand and amphitheater have been venues for countless concerts and performances, including Holland's globally acclaimed Tulip Festival, an annual event since 1929. During the festival, the park is bedecked with thousands of brightly colored tulips, attracting visitors worldwide. Moreover, Centennial Park also hosts various community events, outdoor concerts, and parades throughout the year, becoming a center of cultural and community life.
Interactions with Local Community
Centennial Park has positively impacted the local community's life in Holland, MI. It is a hub for social interactions, recreational activities, and significant city-wide events. The park offers employers and educators opportunities for outdoor instruction and an area for city residents to gather for picnics, barbecues, and other leisurely activities. It has a children's playground and numerous flower beds and ​​walking paths, making it a favorite spot for all ages. In addition to its recreational use, Centennial Park often serves as a place of refuge for residents seeking peace and solitude, away from bustling city life.
The Legacy of Centennial Park
Centennial Park in Holland, Michigan, is a place of significant historical importance. It proudly joined the state's Register of Historic Sites in 1983 due to its unique blend of architectural styles and the substantial historical weight it carries. The park's Dutch heritage is a key part of Holland's cultural narrative, and it noticeably comes to life during the flower-filled Tulips Festival, emphasizing the pivotal heritage role Centennial Park plays within the local community.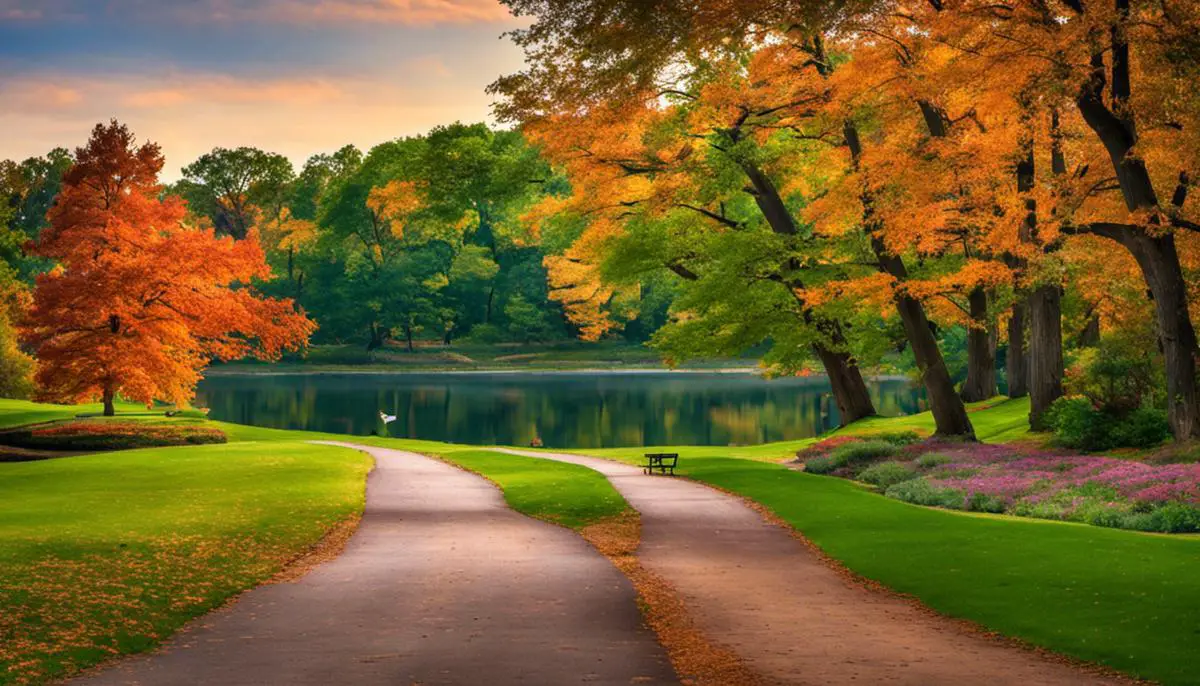 Attractions and Amenities of Centennial Park
Celebrating the Vibrant Centennial Park
Radiating charm and community spirit, Centennial Park serves as a vibrant gathering spot in Holland, reflective of the city's lively personality. The park's sprawling green landscape and meticulously tended gardens provide a year-round show of vibrant flora. An eye-catching, cast-iron fountain, beautifully flanked by blossoming flower beds, stands as one of the park's most admired features and a beloved backdrop for both local and tourist photo opportunities.
Monuments and Sculptures
Strategically positioned across the park are various monuments and sculptures that add to the park's artistic appeal. The most notable of these is the "Civil War Monument" – a testimony to the town's rich heritage. Other works of art scattered around the park also offer beautiful examples of historic and contemporary pieces, some of which have been donated by local artists.
Natural Attractions: Gardens and Ponds
The gardens at Centennial Park are meticulously maintained and beautifully designed. Annuals, perennials, roses, and various shrub species form the bulk of these landscaped gardens. Besides the gardens, the park also features a well-maintained pond that serves as a habitat for small aquatic life. Majestic trees surrounding the pond provide a calming canopy of shade, making it a perfect spot for a quiet respite.
Children's Activities and Public Events
Centennial Park is not just a place for relaxation; it also caters to energetic young visitors. With a playground featuring modern equipment, children can engage in various activities. The park also hosts a series of public events like summer concerts, outdoor movie nights, and the annual Tulip Time Festival, wherein rows of colorful tulips take center stage.
Amenities: Seating Arrangements, Walking Paths, and Accessibility
Centennial Park is well-equipped with amenities to provide a comfortable visitor experience. The park has ample seating, with benches strategically positioned to allow visitors to rest and enjoy their surroundings. The extensive network of paved walking paths is also perfect for those wanting to enjoy a quiet stroll or take their daily exercise.
A Blend of Tradition and Modernity
Centennial Park, nestled in the heart of Holland, Michigan, stands as a symbol of tranquility and harmony, inviting residents and visitors alike. Its unique blend of traditional and contemporary design elements makes it an integral part of the community. Regardless of whether you're attracted by its meticulously landscaped gardens, intriguing historical monuments, diverse children's activities, or simply crave the peace that the park naturally emits, Centennial Park offers something for everyone.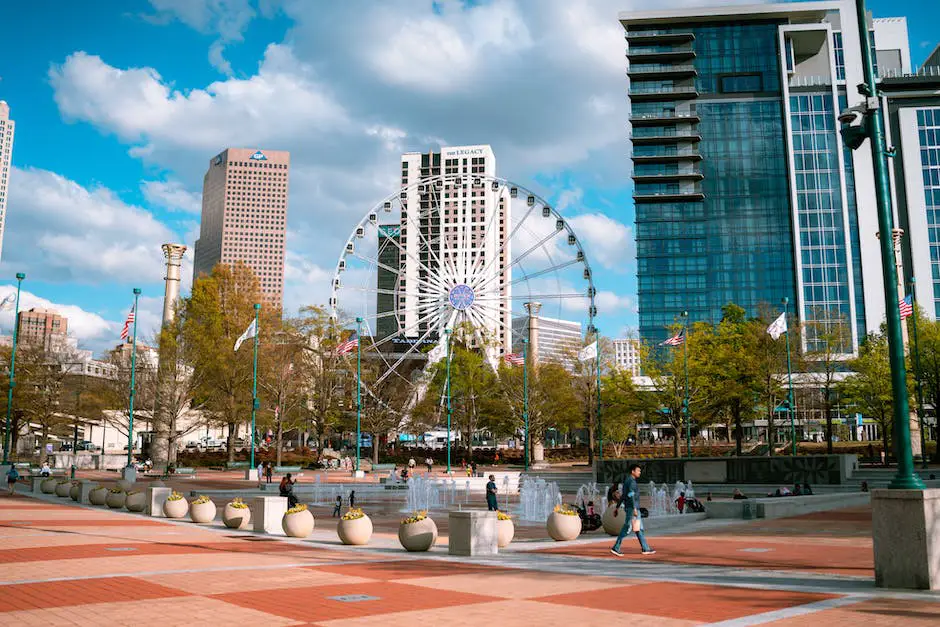 Centennial Park's Impact on Holland, MI
A Community Marker and Cultural Icon
More than just a park, Centennial Park serves as a cultural epicenter in downtown Holland. Throughout the year, it becomes the leading venue for a plethora of public events, including art festivals, craft exhibitions, concerts, and community celebrations, all of which play a crucial role in encouraging community interaction and showcasing the eclectic cultures that make Holland a vibrant, diverse town.
Beyond these events, the park is famous for hosting Holland's annual Tulip Time Festival, a spectacular celebration that brings the town's rich Dutch heritage to full bloom. This globally renowned festival not only attracts international tourists but also aids in preserving and promoting the local culture and history, ensuring that the time-honored Dutch tradition remains alive and flourishing.
Economic Impact of Centennial Park
Apart from its cultural significance, Centennial Park is a major contributor to the local economy. It drives tourism, drawing visitors not only from the United States but also from overseas. Holland's local economy experiences a significant surge during events like Tulip Time Festival, drawing in hundreds of thousands of visitors annually. These tourists contribute to the local economy by spending on lodging, dining, shopping, among other services.
Moreover, the park also generates employment opportunities indirectly. During large-scale events and festivals, demand for goods and services, security, logistics, and entertainment gives rise to temporary and permanent jobs, supporting the local employment sector.
Centennial Park: Promoting Community Life
Centennial Park offers a welcoming space for residents of all ages with its well-manicured lawns, beautifully maintained flower beds, and family-friendly amenities. It encourages communal interactions with its walking paths, picnic tables, and benches where locals frequently gather, thereby promoting a more active and healthy community life.
Children's playground facilities and regular community events organized in the park further develop a sense of belonging and unity amongst the community members. Many locals regard Centennial Park as a ubiquitous part of their daily lives, helping to shape the identity and community spirit of Holland.
In conclusion, Centennial Park is not just a recreational space; it is an essential cog in the community, culture, and economy of Holland, Michigan. Be it boosting the local economy, promoting community life, or acting as a venue for culturally rich events, the park's significances are palpable on both a micro and macro level. It encapsulates the essence of Holland, narrating its past, embodying its present, and providing a vision for its future.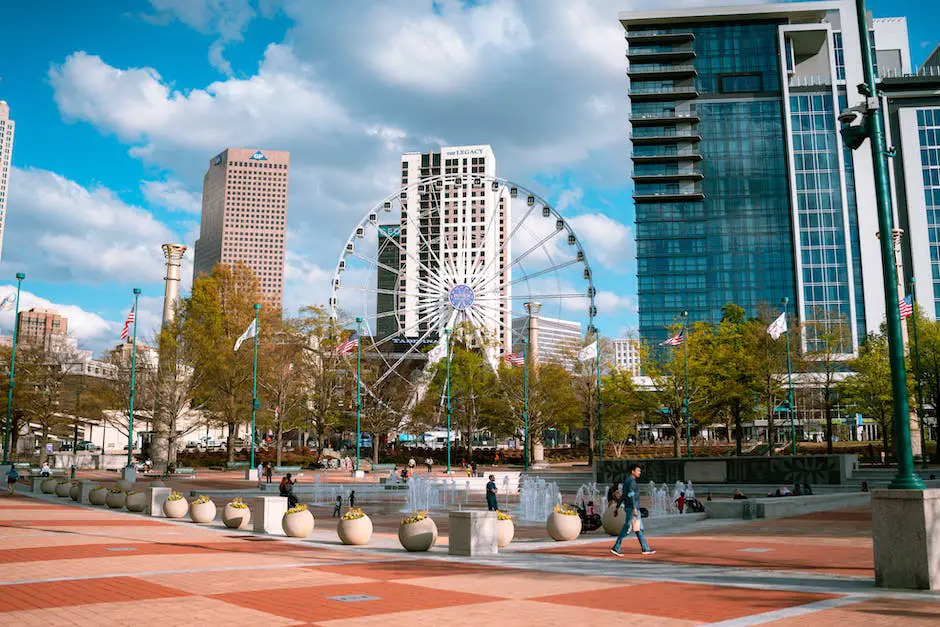 Centennial Park continues to imbue Holland, Michigan with a unique vibrancy, serving as an enduring symbol of the town's shared history and promising future. It is more than just a collection of lush green spaces and timeless structural elements; it's a vibrant setting for community bonding, cultural exchange, and economic growth. Centennial Park's deep-rooted history, diverse amenities, and societal impact epitomize what makes Holland a sought-after destination, firmly placing it on the map. A visit to this park offers a vibrant blend of relaxation, education, and inspiration, making it no less than a microcosm of the town's rich cultural ethos and warm community spirit.