As the captivating 'Elk Capital of Michigan', Atlanta is a beautiful small town drenched in history and natural beauty. From appreciating local history in the Brush Creek Mill and getting up close and personal with elks to basking in the natural bliss of Clear Lake State Park, there's no dearth of activities to make your trip memorable. We found all sorts of things to do in Atlanta Michigan, such as a vibrant scene for wine lovers with its unique Sunrise Side Wine and Hops Trail. Additionally, numerous events and festivals like the Elk Festival or the Harvest, Craft, and Antique Show fill the Atlanta air with joy, offering activities and entertainment for all ages and interests.
Table of Contents
Brush Creek Mill
Experience Local History at Brush Creek Mill
Nestled east of the heart of Atlanta, Michigan, the Brush Creek Mill is a must-visit spot for history buffs and culture vultures alike. This distinctive mill is not only a stunning sight to behold but also houses a museum filled with fascinating displays dedicated to the local history and heritage of the region. Each exhibit tells a unique story, providing visitors with an informative and engaging insight into the past of Atlanta, Michigan.
Immerse Yourself in Various Events
The Brush Creek Mill is also known for its vibrant calendar of events. Throughout the year, it hosts various activities catering to a wide range of interests. From quilt shows that showcase the intricate handiwork of local quilters to craft shows featuring goods by talented local artisans, something exciting always takes place. Be sure to take the time to experience these cultural gems during your visit.
Support Local Artisans at the Gift Shop
Before you leave, don't forget to stop by the Brush Creek Mill's gift shop. This charming spot features an array of handcrafted items made by local artisans. Whether you're hunting for a unique souvenir or looking to support the local craft community, you'll find a host of beautiful, one-of-a-kind items that capture the essence of Atlanta, Michigan. Purchasing from the gift shop not only supports local businesses but it also allows you to take a piece of Atlanta, Michigan, home with you.
Experience Clear Lake State Park
Unplug at Clear Lake State Park
There's something incredibly soothing about immersing oneself in nature, and Clear Lake State Park in Atlanta, Michigan, offers the ideal backdrop for such an experience. The beauty of this place lies in its simplicity and tranquil setting. It's got everything you need if you're looking to swap concrete and screen time for greener pastures and a healthy dose of fresh air.
Fishing at Clear Lake State Park
The park boasts an abundance of trout, making it a fishing enthusiast's paradise. Anglers, don't forget to pack your fishing gear! Casting a line into the pristine waters of Clear Lake offers the chance to unwind and potentially catch dinner.
Swimming in the Crystal Clear Waters
If you love nothing more than a refreshing swim in crystal clear waters, then Clear Lake is certainly for you. The inviting lake is a wonderful spot for a leisurely swim, providing a welcome respite from the hustle and bustle of daily life.
Unleash the Hiker Within
Another way to take advantage of your time in the park is by hiking through its myriad trails. Each pathway gives you a new perspective on the park's natural beauty, eventually guiding you to tranquil spots from where you can bask in the wonders of your surroundings.
Enjoy a Picnic in the Park
Pack a picnic and find a quiet spot to enjoy it in the company of nothing more than the park's ambient sounds and perhaps a few curious squirrels. Whether you're with family, friends, or on your own, it's a perfect way to relax and savor the moment.
Winter Activities at The State Park
Clear Lake State Park isn't exclusively a summer destination, though. In winter, it transforms into a winter sports wonderland, offering cross-country skiing and snowmobiling.
Wildlife Watching at Clear Lake State Park
The park is home to a diverse range of animals for those interested in wildlife, so it's worth bringing a pair of binoculars for bird and animal watching. Overall, Clear Lake State Park is a must-visit destination for holidaymakers in Atlanta, Michigan. It offers many recreational activities and provides an excellent opportunity to connect with nature.
Michigan's Sunrise Side Wine & Hops Trail
Exploring the Sunrise Side Wine & Hops Trail
While this trail is no longer officially open, the Sunrise Side Wine & Hops Trail offers something for every beer and wine enthusiast. The Sunrise Side Wine & Hops Trail was a Northeastern Michigan trail featuring seven wineries and three micro-breweries. The trail was known as one of the friendliest wine-tasting sites in Michigan.
This trail winds through the beautiful landscape of Michigan's Sunrise side, showcasing the area's wineries and breweries.
What Made The Trail Special?
You'll be captivated by the fascinating variety of wines and brews on offer. Each one tells a story, carrying with it the unique notes that embody the character of the Michigan soil from which its ingredients are sourced.
The trail included:
Modern Craft Winery
Wiltse's Brew and Pub
Stony Acres Winery
Nicholas's Black River Vineyards & Winery
Cheboygan Brewing Co.
Rose Valley Winery
Valley Mist Vineyards 
The vineyard and orchard views are unparalleled. Savory the taste of well-crafted brew and wine as you bask in the sight of vast fields framed by Michigan's clear skies and warm sunshine.
A Voyage of Taste
Winemakers and brewers along the trail are eager to share their passion and knowledge. They offer tastings and tours to enhance your appreciation of the finely crafted drink in your hand.
Step into local cellars and tasting rooms, learning the intricate process that transforms simple grape and grains into delectable beverages.
Wine and Beer Pairings
You can also find well-curated meal pairings in many of the wineries and breweries. Bites of local cheese, succulent meats, and decadent chocolates enhance the tasting experience, allowing the subtle flavors in the wines and beers to shine.
A Visit to Remember
The Sunrise Side Wine & Hops Trail is a journey for your palate and a delightful experience of the region's culture and natural beauty. Whether you are a seasoned wine or beer aficionado or enjoy a casual tasting, this trail promises a uniquely Michigan experience.
Despite its relaxed atmosphere, remember to plan your visit responsibly. Consider arranging a designated driver or booking transportation ahead of time to ensure a safe and pleasant trip.
Elk Viewing Excursion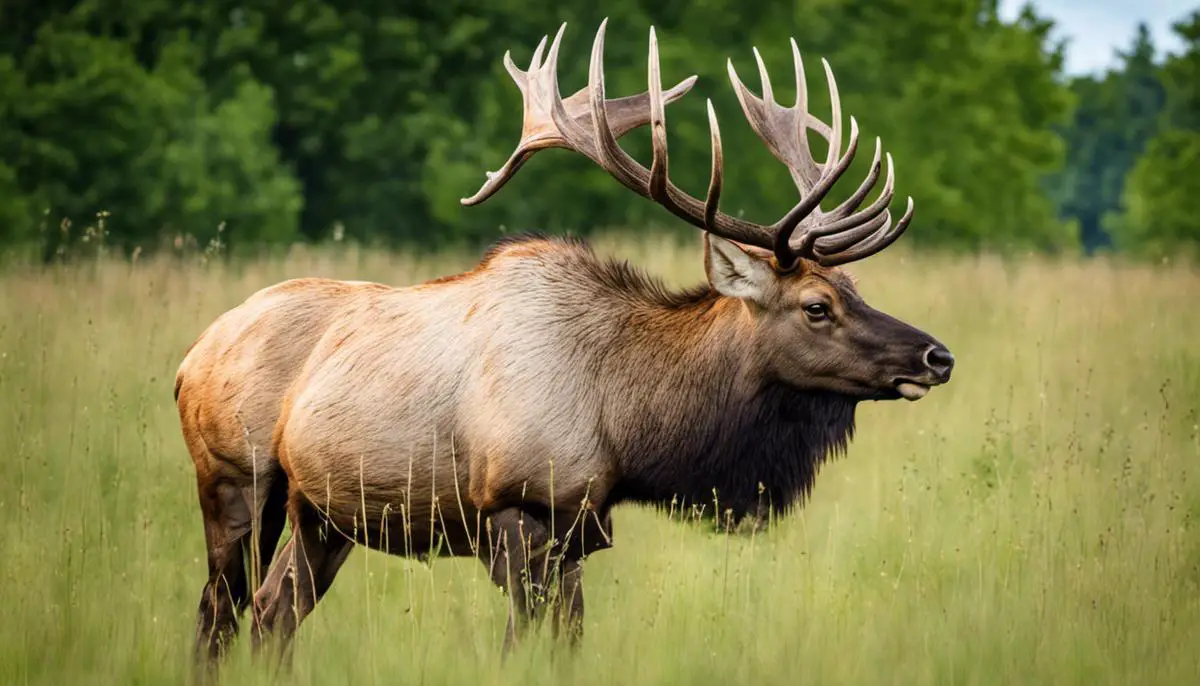 Atlanta: The 'Elk Capital of Michigan'
In the picturesque town of Atlanta, Michigan, lies an adventure waiting to unfold for any wildlife enthusiast. Recognized as the 'Elk Capital of Michigan', this charming town offers an unparalleled opportunity for visitors to witness the regal Elk in all its glory.
Visitors can embark on memorable Elk viewing excursions by car or guided tour. The car tours allow individuals to explore at a comfortable pace, while the guided tours include experienced local guides who are well-versed in the best spots to watch these majestic animals.
Breathtaking Sight of Elk in its Natural Habitat
These Elk viewing excursions expose one to the enchanting universe of these magnificent creatures. Witness the Elk drinking from a serene creek, frolicking in lush meadows, or strolling elegantly in the forest. Regardless of the season, the sight of Elk in their natural abode is sure to leave you spellbound.
An Excursion Experience Like No Other
What makes these elk-viewing excursions distinct is the focus on promoting an immersive experience. Visitors grasp fascinating insights into how Elk thrive in the area, their lifecycle, feeding habits, and environmental needs. These expositions deepen their understanding of Elk and escalate their respect for these splendid beings.
A Draw for Nature Photographers and Wildlife Lovers
Atlanta's elk-viewing excursions are a notable draw for photographers and wildlife lovers. The town's panoramic vistas, combined with the allure of the Elk, make for magnificent shots – a nature photographer's dream come true. On these excursions, wildlife enthusiasts can succumb to the allure of not just Elk but also other indigenous species of the area.
No matter if you are a diehard wildlife buff or have a casual interest, the Elk viewing excursion in Atlanta, Michigan, would certainly be full of stunning sights, delightful experiences, and unforgettable moments.
Atlanta's Annual Festivals
Unearth the vibrance of Atlanta's Annual Festivals
Immerse yourself in the rich tradition and community spirit of Atlanta, Michigan, events as you explore its myriad annual festivals. Each one offers a unique insight into the local culture and unleashes a wave of fun, excitement, and camaraderie, making it a must-visit for both residents and visitors alike.
Experience the thrill of the Elk Festival
That not only celebrates the majestic animal but offers a multitude of activities. This festival is a sensory treat from rides and games to food stalls offering local delicacies. The enchanting live music makes the atmosphere all the more electrifying. Interacting with both locals and tourists can also be a great way to make your experience unforgettable.
A Trip to the Chainsaw Carvers Competition in Atlanta Michigan
Chainsaw carving competitions are a spectacle of skill, artistry, and the raw power of machinery. These events bring together talented carvers from various backgrounds, each wielding their chainsaws with the finesse of a sculptor's chisel. The atmosphere is electric, filled with the buzzing of chainsaws and the scent of freshly cut wood. Participants are given a set time, often just a few hours, to transform a raw log into a work of art. The subjects range from intricate animals like bears and eagles to mythical creatures or abstract designs.
What sets these competitions apart is the element of performance. Carvers not only focus on their craft but also engage with the audience, explaining their techniques and artistic choices as they work. As the clock ticks down, the tension rises. Judges, often experts in the field, evaluate each piece based on criteria such as creativity, complexity, and finish. The event usually culminates in an auction where spectators can bid on their favorite pieces, often with proceeds going to charity. For both participants and viewers, chainsaw carving competitions are a thrilling blend of art, sport, and community.
Final Thoughts About Things to Do in Atlanta Michigan
Whether you're a history buff, an adventure enthusiast, a wine lover, or a festival-goer, Atlanta, Michigan, has something to cater to everyone's taste. Its historic Brush Creek Mill, exciting Elk viewing excursions, serene Clear Lake State Park, unique Michigan's Sunrise Side Wine & Hops Trail, and lively annual festivals offer an unforgettable experience. So why wait? Plan your trip to Atlanta and be ready to be swayed by its quiet charm and myriad activities. Needless to say, the town promises an array of experiences sure to make your trip memorable.
Related Reading
1 Interesting Things To Do In Mid-Michigan
Things to Do In Howell Michigan: 10 Remarkable Activities for Tourists
Alma Michigan – 10 Alluring Things to Do in Scottish Country
10 Neat Things To Do in Iosco County Michigan
15 Interesting Things To Do in Lapeer County, Michigan
Bronson Michigan – 5 Adorable Things To Know About This Beautiful Small Town